About Me
Theo was born in Cyprus in 1959. His business empire spans retail, property, finance and consumer goods. Having left school at the age of 16 with no qualifications due to his dyslexia, he began work as a filing clerk in a Lloyds of London brokerage.
Having realised very quickly that filing was not his forte, he left and took up a job working for Watches of Switzerland where he discovered his passion for retail. After several years the opportunity arose for Theo to return to insurance, in a more customer facing role, where he gained invaluable experience in finance and property.
Returning to retail a few years later, he has revived the fortunes of notable high street names such as Ryman, Partners the Stationers, Stationery Box, La Senza, Contessa Lingerie and more recently the home and garden retailer Robert Dyas. Theo also bought Red Letter Days out of administration in 2005, with fellow TV Dragon Peter Jones, turning it around and selling in 2017. In the Spring of 2011 he also launched what has now become the multi award winning, global lingerie brand Boux Avenue.
In 2015 Theo launched Theo Paphitis Retail Group which encompasses Ryman Stationery, Robert Dyas, Boux Avenue and London Graphic Centre, acquired in 2016. The combined group comprises over 330 stores and 4,000 employees who serve over 28 million customers a year.
Theo's other passion, sport, led him to having 8 marvellous years as Chairman of Millwall Football Club, achieving promotion to the Championship and the FA Cup Final against Manchester United as well as qualifying for Europe. Along with football, Theo closely follows many sports and was co-founder of sports marketing company Movie & Media Sports in the late nineties. In 2013, Theo returned to the sports industry following the investment he made into MB Partners, the boutique sports management agency, where he is now Chairman.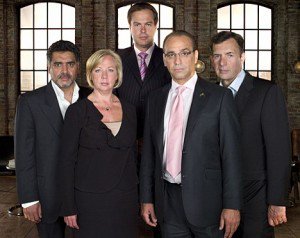 In 2005, Theo joined the popular TV show Dragons' Den and spent eight subsequent years as a stalwart of the show coining such favourite phrases with viewers as 'I'd rather stick pins in my eyes than invest in that!". Throughout the seasons Theo invested in numerous small businesses and helped fledgling entrepreneurs develop their businesses in a wide variety of industries from consumer goods to online antique valuations. Theo left the TV show in 2012 to focus on his expanding retail empire.
Theo also returned for a few episodes in Series 17 of Dragons' Den, aired in September 2019.
Theo continues to make regular TV appearances on the likes of The One Show, BBC News and Radio as a resident business expert, providing his knowledge and experience to a variety of businesses throughout Britain. Theo also regularly comments on current affairs on TV and radio, such as BBC's Question Time, LBC and more. You can see his most recent appearance in October 2019 here.
Theo also appeared on BBC's 'The Boss is Back' in 2012 where he returned to Millwall Football Club to relive his time as Chairman of the club and to reflect upon how the experience changed both him and the club. To watch the Boss is Back please click here. In 2010 Theo also hosted a series entitled Theo's Adventure Capitalists where he followed the fortunes of brave and bold British companies trying to expand into the dynamic emerging markets of India, Brazil and Vietnam in a four part programme.
Celebrity STorage Hunters
In 2016 Theo took part in Celebrity Storage Hunters for Charity. He was joined by Vic and Bob,Janet Street Porter, Stephen K Amos and Phil Tufnell to scrap for storage lots, turning any profit over to charity. Although unsuccessful in the bidding - things got heated among the celebrities as they desperately tried to win the unit to make money for their chosen charity. A lot of fun and made for some hilarious viewing! Watch the clip here.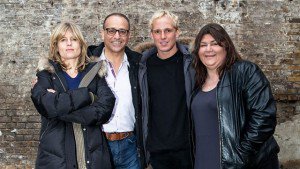 In 2014 Theo appeared on the BBC's Famous, Rich and Hungry as part of Sport Relief's season of programming to highlight how for millions of people in Britain, going hungry is a very real issue. Theo put his life on hold to live with families who couldn't afford to eat and had just 76p to spend per person per day on food.
In 2017 Theo joined a hosts of celebrities to share their memories in The Story of Only Fools and Horses which included rare and unseen footage from the much loved comedy series. Theo shared his favourite clips and episodes and spoke about why the show was such a classic. You can watch the clips here.
Born
Theo was born in Limassol on 24th September. One of three brothers.
Emigrated to Britain
Theo and the family emigrated to the UK. Here the family are pictured on the jetty in Venice before embarking on their new life in England.
Life in Manchester
The Paphitis family band, their first and last attempt! The family lived in a house that overlooked Old Trafford. A sign of things to come perhaps….
Moved to London
Theo and the family moved to Finsbury Park, London.
Theo's First Job
Theo experienced his first taste of work! Delivering flyers for a mini cab company at the age of 12.
First Entrepreneurial Spark
Theo launched a school tuck shop which made him one of the most popular kids at school!
First City Job
The first official job Theo had was as a tea boy and filing clerk at a City of London insurance broker. Earning £20 per week
First Taste Of Retail
At the age of 18 Theo began working for Watches of Switzerland on Old Bond Street. On his first day he realised that retail was his passion and he sold a Rolex!
Married Mrs P
Insurance Industry
At the age of 21 Theo joined Legal & General and began selling commercial mortgages
Set Up His First Company
Theo's first taste in setting up a company came at the age of 23. Theo set up a property finance company using the experience he had gained at L&G.
Back into the City with Astra
Theo moved back into the city and became Chairman and Chief Executive of Astra and began cutting his teeth in the City. This turned out to be a very painful experience!
Movie Media Sports
Theo, with his business partner Ian Childs purchased MMS, a sports marketing agency, out of administration.
Moved into Mobile
Theo acquired a majority stake in NAG Telecom and with it, its three London stores.
Acquired Ryman Stationery
The mobile phone industry introduced Theo to the troubled retailer Ryman Stationery and soon after Theo purchased Ryman, and its 80 stores, from the receivers. The beginning of Theo's retail empire!
Moved into Lingerie
Theo soon realised that Ryman was too small a business to keep him fully occupied so, when the opportunity arose, Theo acquired Contessa Lingerie.
Millwall FC Acquired
Theo led a consortium and became Chairman, acquiring Millwall FC from administration in 1997. As Chairman of Millwall, Theo and the club eventually managed to reach the 2004 FA Cup Final.
Acquired La Senza
Theo expanded his retail brands by one more as he acquired La Senza from Canadians who had expanded into the UK but were struggling to make it work.
Movie Media Sports Sold
Movie Media Sports was sold to Octagon Worldwide.
Partners Stationery
After trying to buy Partners Stationery for several months Theo was finally able to buy the retailer once it went into the hands of the receivers.
Into the Den
Theo joined the BBC Dragons' Den which was a large part of his life for eight series until his departure in 2012 to focus on the retail brands.
Acquired Red Letter Days with Peter Jones
Out of Lingerie (temporarily!)
Theo sold his stake in La Senza and Contessa to Lion Capital.
Bought Stationery Box
Theo purchased Stationery Box and began the re-brand of the stationery businesses into the Ryman Stationery brand.
Partners and Stationery Box combined under Ryman name
The Stationery Box and Partners brands are combined under the Ryman Stationery brand.
Boux Avenue launched….back into lingerie!
Boux Avenue is launched initially with the opening of six stores and the launch of www.bouxavenue.com
Robert Dyas Acquired
Theo purchased the Ironmongery and Homewares retailer Robert Dyas.
Back to Sport
Theo and Ian Childs invested in MB Partners, the sports marketing and management business founded by the former F1 driver Mark Blundell. Following the investment Theo became Chairman of MB Partners.
Theo Paphitis Retail Group founded
Combining Boux Avenue, Ryman Stationery and Robert Dyas under one retail brand
Sold Red letter Days
New Boux Avenue Warehouse
Theo becomes Chancellor of Solent University